We have a huge supply of Spectrum Fusible Glass-get it before it's all gone! Stained Glass & Fusing Supplies In Stock!
Looking for the best selection of stained glass and supplies in the Midwest? We have over 800 colors and textures of glass plus over 3,000 bevel clusters in stock. Our store has everything you will need for tools, supplies and inspiration.
Check out our September flier for our new list of stained glass and fused glass classes.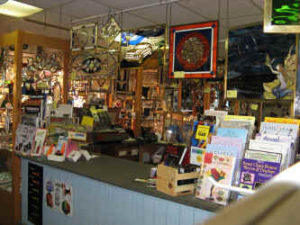 Tour the store!
Glass House Tour
Stained Glass and Fusing Classes
We offer classes on a variety of art glass topics for any skill level. See our classes page to view the current class schedule or sign up to get an email when we post new classes.

MMS Bevels
Looking for MMS bevel catalog? See our line of interesting bevel clusters that are priced to fit your budget. We also have specialized tools that will make working with glass easier. Dealer pricing is available.