Our annual Moonlight Madness Parking Lot Sale is our biggest 3 day sale of the year and only on October 21st to 23rd. It is one weekend a year to get some of the best sale prices on stained glass. Prices are only good while supplies last. Come see us Saturday 9:30-3 pm, Sunday 11-3 pm, and Monday 9-6 pm. Rain or Shine!
We will fill the parking lot with glass crates full of Stained Glass at prices up to 60% OFF! Bring the big truck to take home these great bargains.
As our way to say Thank You for Your Business, On Sunday we will have barbecue lunch for everyone and Mom's famous chocolate cake!

Stained Glass and Bevels
Kokomo stained glass in assorted colors 8″ x 12″ at half regular price.  Too many colors to list. Empty glass sheet storage crates for $10 while they last. Miscellaneous glass bevels in odd shapes and sizes from 25¢. Pre-order your 50% off Bargain Bevel Clusters by Friday and we'll have them ready to pick up when you come for sale!
Don't forget the coupons for deals like free glass.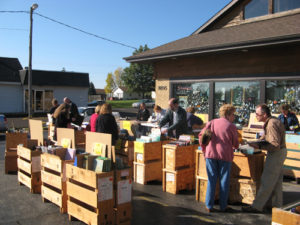 Stained Glass Supplies and Tools
We'll have a large selection of preowned soldering irons, used glass grinders, Morton Glass Shops glass cutting systems and foilers and other tools. Most used tools are at 1/2 price or less of a new one. 60/40 Solder only $12.99 (limit 2). Select pattern books buy 2 get 1 free.
Free Product Demos Saturday and Sunday: Direct from Las Vegas, by way of Ohio, Kat Patrick will be showing you how to make your glass cutting easier and fun with the Cutters Mate Glass Cutting System, Beetle Bit System and even the Creator's Bottle Cutter! These cutting systems are truly amazing. If you have problems getting enough pressure for successful scores, we have the answer! Demos start on Saturday at 11:00 and Sunday 11:30-1:30. Kat does these demos at the Glass & Bead Expo in Las Vegas and has worked with glass for over 20 years.
Fusing Glass and Kiln Supplies
Spectrum has stopped producing their beautiful glass. They have announced a new owner and will be moving the production of Spectrum to Mexico. It makes us wonder if Spectrum will take on a new look once the production starts again maybe late next year. Now, Uroboros has announced it's closing early 2017.
The Glass House has stocked up on Spectrum Glass & 96 Fusible with new arriving daily. All regular priced Spectrum will be 10% OFF during the SALE (black not included). We have a good supply of Bullseye & Uroboros fusible also. If you like to work with these types of glass, stock up now before they are all gone!
Assorted 90 & 96 coe stringers and fusible frit jars on sale.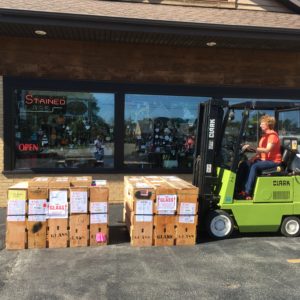 Here are directions to get to our shop on the day of the sale.