January 2018 Flier
Check out our new list of Fused Glass, Mosaic, and Beginning Stained Glass classes and sign up today. Start A New Project Sale includes Clear 96 Fusible Glass only $4.99 sq. ft. Colored Bevels are 20% OFF and Much More.
---
Provide us your info and receive an email about new products and specials when we add a new stained glass sale flier!
Use our
full contact form
if you need to change your mailing or email address.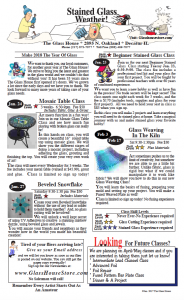 ---
Archived Fliers
The deals have passed but we still have the best selection of stained glass supplies, bevels, and art glass classes available in the Midwest.
November 2015 Flier
Page 1 – Several glass classes coming up in January & February! Beginner Stained Glass and Dinner and a Stained Glass Project !

Page 2 – More new classes coming up in January & February! Learn how to make a stepping stone or a fused Kaleidoscope. How about making glass flowers in your kiln? Learn new ways to repurpose your wine bottles into unique works of art!

Page 3 – Christmas Open House brings all kinds of savings! Pre-Cut Fusible Glass Shapes make your holiday stained glass projects easier.

Page 4 – Sale on Glass Grinders, Soldering Irons, Bevel Clusters and more!
October 2015 Flier
September 2015 Flier
May 2015 Flier
February 2015 Flier
November 2014 Flier
October 2014 Flier
September 2014 Flier
May 2014 Flier
November 2013 Flier
October 2013 Flier
September 2013 Flier
April 2013 Flier
February 2013 Flier
January 2013 Flier